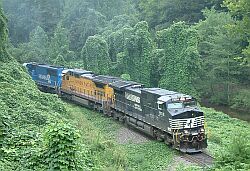 Welcome to the RRPictureArchives.NET contributor site of Frank Caron.

Welcome to my little part of the RR Picture Archive web site, you'll see a variety of images, mostly those from the San Francisco Bay Area.

You'll find action, roster and rolling stock images in my folders, you can also visit my web site at http://www.railsaroundthebay.net/

Thanks for stopping by,

Frank



You may browse my collection of pictures via the menu located on the left hand side of the page. I hope you enjoy the collection and thanks for stopping by!
Note: This site is best viewed in Internet Explorer 6.0 or above.
Select one of the links from the menu on the left to begin browsing the collection.